Taking the express train of the Internet of Things, the Bluetooth module began to take off. By embedding a Bluetooth module, traditional home appliance door locks, instruments, lamps and other equipment can be intelligent.
Shengrun Technology was established in 2010 and is located in Shenzhen, Guangdong Province, China. It is a technology-centric and development-oriented emerging mobile Internet of Things industry, gathering R&D and production of Bluetooth modules, solutions, Internet of Things systems and other products. And sales as a technical enterprise. For several years, Shengrun Technology has focused on the research and development of Bluetooth modules, providing product application solutions, and is committed to providing customers with the most professional Bluetooth solutions, the most convenient, high-quality, and most reliable personalized customization services to solve customers' wireless protocols. Problems to help customers accelerate productization.


Currently, Shengrun's main products are Bluetooth modules (BLE 4.0, 4.1, 4.2/5.0), SDK development platform (CC2541/CC2640/CC2640R2 SDK development tool kit), smart solutions (Bluetooth lock, networking lights, smart sockets), Tire pressure monitoring, Beacon, etc.) and Bluetooth low energy wide area IoT system.
Bluetooth 4.2 module HY-40R201P / HY-40R204P and other models are widely used in smart homes, wearable devices, electronic products and other occasions.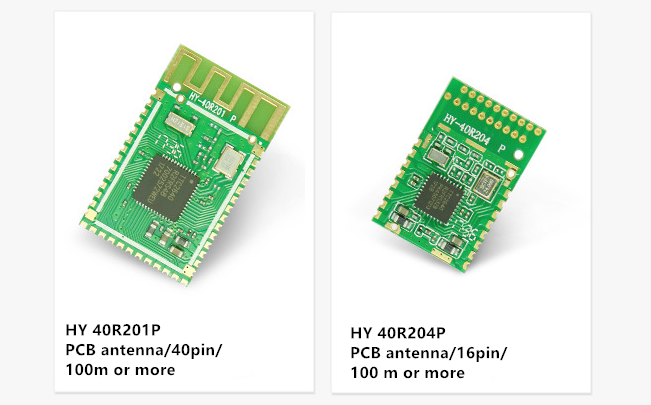 Support multiple link methods, with strong compatibility;
Using TI's latest CC2640R2F chip design;
Built-in high-performance ARM-Cortex-M3 MCU;
The software provides two operation modes: data transparent transmission and AT command;
High transmission rate (single link rate up to 12K/S);
Contains a variety of peripherals: UART/SPI, etc.;
Support customer secondary development (80KB of application code space) and provide SDK development kit.
More info, please visit the offical website: www.ttcble.com