The full name of IATF is International Automotive Task Force, and its main purpose is to develop quality management standards for the automotive industry. The first edition of TS16949 was released in 1999. The second edition of TS16949 was released in 2002. The third edition of TS16949 was released in 2009. The fourth edition of 16949 will not be published by ISO (International Organization for Standardization), but will be published directly by IATF, so it is renamed IATF16949: 2016 edition.
IATF16949 is a technical specification for the international automotive industry. It is based on ISO9001, adding technical specifications for the automotive industry. This specification focuses more on defect prevention, reducing quality fluctuations and waste that are prone to occur in the auto parts supply chain. This applies to OEMs and their direct component manufacturers. That is to say, these manufacturers must be directly related to the production of automobiles, able to carry out processing and manufacturing activities, and through such activities to add value to the products.
As a common technical specification for the global automotive supply chain, IATF16949 can integrate the quality requirements of automotive suppliers. Through a common quality system, this avoids multiple certification audits and reduces the number of supplier quality system reviews. IATF16949 can also help automotive suppliers to improve product quality, reduce costs and increase efficiency, and enhance confidence in global sourcing. Greatly improve customer satisfaction.
On April 14, 2021, Shengrun Technology has successfully obtained the IATF16949:2016 quality management system certification, with years of accumulation in BLE technology and mass production experience of automotive digital keys. This will help the company to further improve product quality and develop the global automotive application market of Bluetooth.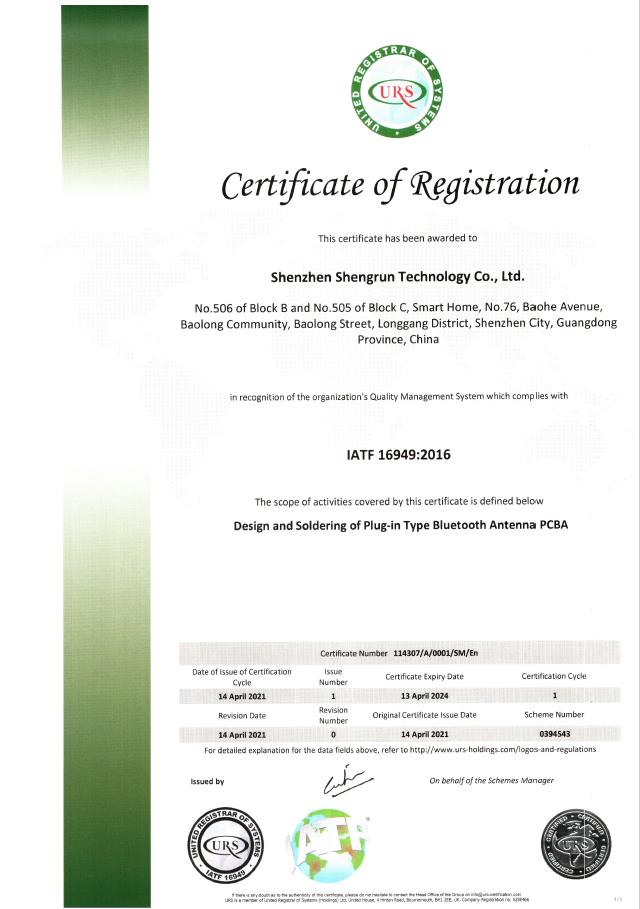 Shengrun Technology IATF16949:2016 Quality Management System Certification
Since its establishment in 2010, Shengrun Technology has focused on the research and development of short-range communication technologies such as Bluetooth. We are committed to providing customers with more convenient communication access. We provide BLE/NFC/UWB/WiFi wireless modules and related solutions. Shengrun R&D Center is located in Shenzhen. It is a member of Shenzhen Software Industry Association and a key high-tech enterprise of the National Torch Program. At the same time, it has established a long-term and stable strategic cooperative relationship with the American semiconductor manufacturer Texas Instruments (TI). At present, the company has more than 40 patents of various Bluetooth technology, and has obtained ISO9001:2015, IATF16949:2016 quality management system certification, and BQB, FCC, RED, IC, ROHS, REACH and other product certifications. To ensure more convenient, faster and more professional services for global customers. Shengrun Technology, a national high-tech enterprise, your trusted partner!